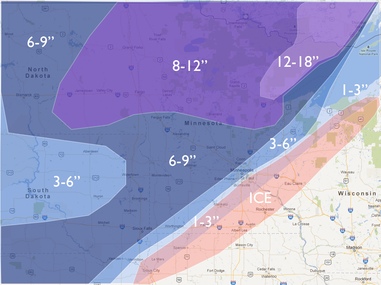 Our first major snow storm of the 2013-2014 winter season is strengthening to our west. Below is what you can expect over the next 24-36 hours.
Snow is currently developing over the Dakotas and will continue to fill in throughout the overnight as it slowly moves to the east.

Drizzle and freezing drizzle will develop over southern and southeastern Minnesota including the Twin Cities overnight as warmer air moves in aloft. With temperatures near or below freezing at the surface, ice accumulations are possible overnight.
Light snow is possible overnight in the Twin Cities, but the heaviest accumulations will occur while everyone is at work tomorrow, between 9am-5pm. Warmer air aloft over the southeast metro will limit totals and produce a very sharp gradient across the metro. 1-3" is expected for the southeast metro while the northwest metro could receive 6-9" with a much longer period of snow.
Storm total forecast for MSP: 5"
The heaviest snows will fall across the north shore where lake enhanced snow bands could produce another 1-1.5 feet of snow.
Strong winds will also cause blowing and drifting snow across the Dakotas and western Minnesota. Brutally cold air will move in behind this system Thursday through much of next week with lows dropping well below 0.

Snow will become possible again on Sunday as another strong system approaches from our southwest.