Final Forecast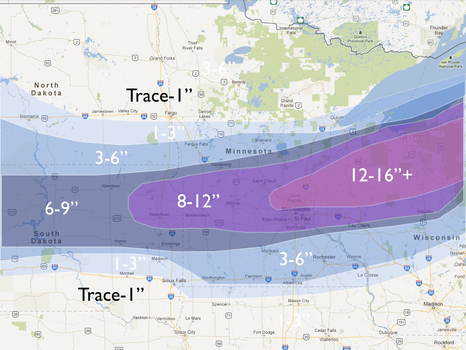 I hope everyone was able to get outside today, finish yard work, enjoy the grass one more time, or even just enjoy above freezing temperatures because everything changes tomorrow. Winter officially begins in the Twin Cities tomorrow, a good 2 1/2 weeks before Thanksgiving! Not exactly what most people want to hear after two consecutive long, cold, winters. However, for a number of snow lovers, or just for people who enjoy massive snow storms, tomorrow will be an awesome day.
To the left is my final forecast for this storm which will begin overnight tonight and continue into the early morning hours on Tuesday.
Light snow is currently developing across northern South Dakota this evening, and will continue to expand and intensify in coverage overnight. Snow will reach western Minnesota around midnight, and extend into the Twin Cities between 4-6am tomorrow morning.
Snow will quickly become heavy in the Twin Cities between 6am-10am creating a difficult morning commute.
The difficult portion of this forecast is figuring out how far north the freezing line will reach tomorrow morning. It's possible temperatures aloft rise above freezing as far north as I-94, decreasing overall amounts across the south metro. This could cause a brief period of sleet, rain, or freezing rain to fall across the south metro, mainly between 10am-1pm. This is why I held overall snow accumulations across the south metro down slightly.
If the majority of the metro remains all snow through the day tomorrow, my forecast may be too low. The 12-16" band would likely need to shift southward to encompass the entire metro.
Mixed precipitation will likely fall across southern Minnesota throughout the day tomorrow, especially from a Mankato - Faribault line and southward. This is why you see a sharp decrease in snow accumulations as you head south.
Snow will once again become heavy in the Twin Cities tomorrow afternoon/evening and slowly taper off into the late evening. The evening commute in the Twin Cities will be a NIGHTMARE.
12-16" of snow is likely across the north metro, with spotty amounts near 20" possible. The south metro will range from 8-12", with amounts decreasing as you head south.
Storm total forecast for MSP: 12"
As I mentioned previously, the cold air behind this system is significant, especially for early November. Record breaking lows near or below 0 will be possible throughout the week and into next weekend. Welcome to January two months early!