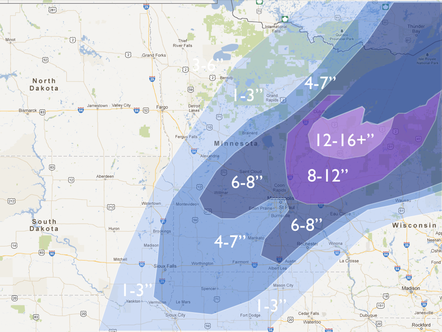 As of 4:30 pm heavy sleet is moving back into the Twin Cities metro. This will change over to all snow over the next hour or two and become heavy at times tonight. As you can see I've made some slight changes to the forecast I posted last night. There's no doubt this has been a challenging forecast for many meteorologists today.
Snow is really beginning to pick up to the west of the Twin Cities and will continue to develop towards the metro this evening. 6-8" with remains likely just to the west and northwest of the metro.
My forecast remains consistent from last night as I still expect to see 4-8" across much of the Twin Cities metro. Most of the heavy snow will fall across MSP between 6pm - 2am. Drier air will work into the metro after 2am, limiting accumulations beyond that time.
Storm total forecast for MSP: 6"
The biggest change to the forecast comes late this evening and into the overnight hours just to the south and southeast of the Twin Cities. As the main surface low pushes northward a very heavy band of snow will develop from Albert Lea - Owatonna - Red Wing. 6-8" with possibly a few higher amounts will fall within this band overnight with thundersnow possible.
The snow will exit the entire state of Minnesota by late tomorrow morning. The morning rush hour could be very difficult, but temperatures will rise above freezing during the day and should help to make for a much easier evening commute.
As I mentioned yesterday enjoy the snow while it lasts because it won't be around long. We'll still see temperatures rise into the 50s and 60s, with even 70 a possibility next week. Enjoy!