It has only been 18 hours since I released my initial forecast for today's snowfall. A lot has changed since then and can best be summed up by Ron Burgundy.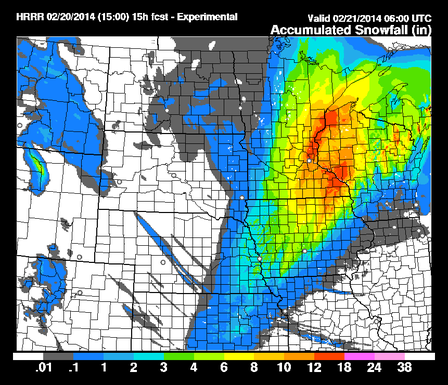 As of noon today the ECMWF and the HRRR are in good agreement setting up a band of very heavy snow along I-35 in Minnesota extending into northwest Wisconsin.
This is turning out to be a classic panhandle hooker and is only picking up more gulf moisture as it heads northward. The slower progression of the storm today will allow the gulf moisture to combine with arctic air and produce heavy snow this evening. The timeline of what to expect is below.
Light rain is currently changing to sleet and snow across the metro. All snow is expected between 1-2 pm.
The heaviest snow is expected to fall between 3pm and midnight tonight. Heavy accumulations in the order of 1-2" per hour are likely, especially between 3pm-8pm. Thundersnow is also possible within this time frame.
The snow will end across the area during the overnight hours, but very strong winds will produce blowing and drifting snow through tomorrow.
Storm total accumulations will range from 8-10" across the far west metro to 12-16" across the eastern metro, with some locally higher amounts possible.
Storm total forecast for MSP: 12-14"
I know many have been waiting for the Twin Cities to receive its first big snowfall of the winter so far. It's here. Settle in with a big bowl of popcorn and the drink of your choice and enjoy the show.