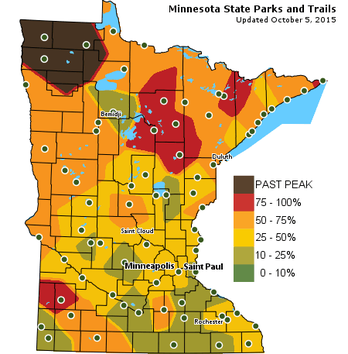 Fall is my favorite time of the year, especially when it comes to visiting parks and taking in the fall colors. Due to our very warm September, the leaves have been slow to turn this season. With the cool weather that has finally settled in over the past five days, leaves are beginning to change rapidly.
To the left is the latest fall color map from the
Minnesota DNR
, showing many places across northern Minnesota approaching peak color. Colors are still slow to change around the Twin Cities, but I'm starting to see a little more yellow and orange around the metro, including in my back yard.
The weather looks good for much of the next 10 days if you want to take a trip up north or just get out and enjoy fall around the Twin Cities. We'll see slightly warmer temperatures into the upper 60s for the next two days, then our only chance of rain comes Wednesday night into early Thursday morning where MSP could see .25"-.5"
Otherwise dry conditions are expected this weekend into early next week, with a BIG warmup on the way! Highs back into the 70s appear likely this weekend, with southern Minnesota approaching 80° or even warmer on Sunday!
---
Record Rainfall Across South Carolina
Check out the incredible water vapor loop across the southeastern U.S. from October 1st - today. As you can see below, the combination of a slow moving upper level low across Georgia/Florida and tropical moisture partially related to Hurricane Joaquin, created an atmospheric river which remained nearly stationary across South Carolina this weekend.
---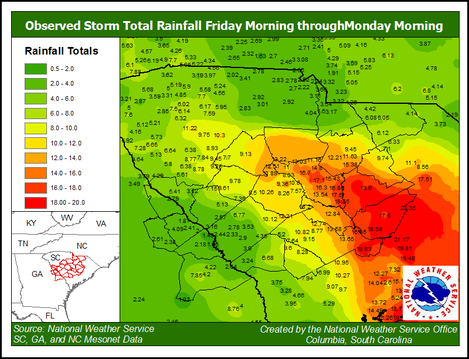 This atmospheric river helped to produce record rainfall across many locations in South Carolina. Here is the total rainfall map through this morning across central South Carolina. You can see record amounts of 17"-26" fell from just north of Charleston to near Columbia.

Meteorology speaking, this was an incredible and rare event, that will likely be studied for some time. On a positive note, the weather models - specifically the ECMWF did a very nice job of forecasting these extreme amounts several days in advance. Even the GFS, which struggled with Hurricane Joaquin, did much better in forecasting this event.


Thoughts and prayers are with those affected by this catastrophic flooding.